696
global contest entries, of which 671 were U.S. only
1.5M
minutes spent reading The Handmaid's Tale branded content
8.8M
native ad impressions
Hulu generates awareness and tune-in of The Handmaid's Tale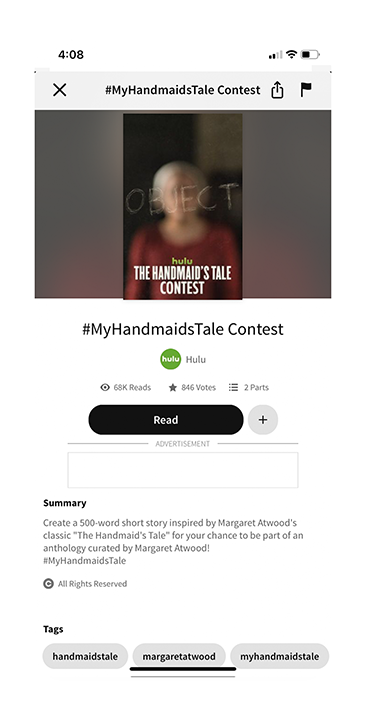 To create mass awareness and tune-in around the release of the original TV series, The Handmaid's Tale, and engage fans of the original book.
To engage the Wattpad community and leverage Margaret Atwood's fans on Wattpad, Hulu launched a writing contest (#MyHandmaidsTaleContest) asking fans to submit short stories about their own versions of The Handmaid's Tale. Winning entries were judged by Margaret Atwood herself, for a chance to be featured in an anthology. Plus, a layer of immersive video ads helped drive tune in as part of the overall campaign.
The campaign sparked conversation around the series and amplified discussion around global and political events, creating impactful results all round!
Users spent 1.5M+ minutes reading The Handmaid's Tale branded content*.

A total of 8.8M native ad impressions were delivered.

A total of 696 global contest entrie were submitted.

The Hulu profile garnered 13K+ followers on Wattpad, creating a forum for fans to discuss the show with fellow fans alike.