3.8M+
views on the winning animated digital short
We built anticipation and engagement around the movie release of The Grudge through a thrilling writing contest, two scary custom animations, and a trailer takeover of our Horror genre.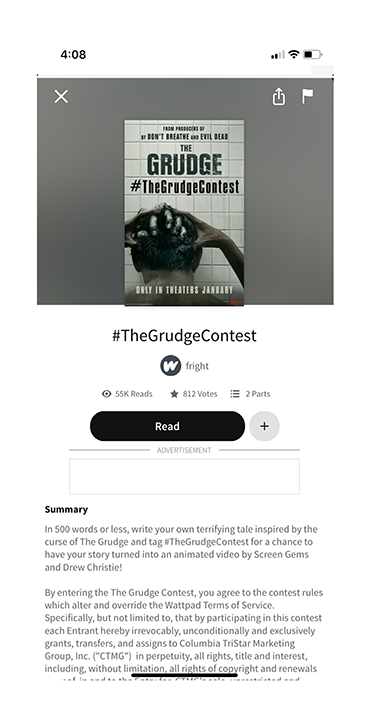 Build suspense and engagement around the upcoming theatrical release of The Grudge, and introduce the movie to a new generation of fans.
Enlisted animator Drew Christie to create a terrifying prequel animation about the curse of The Grudge.

Invited our community to share their own story inspired by the curse of The Grudge, turning one lucky winner's entry into a creepy animated digital short!

Promoted the movie trailer between chapters of Wattpad's most relevant stories.

Wattpad's FRIGHT profile was fully rebranded with #TheGrudgeContest.
Our community was both terrified and excited to see the film, and the campaign made a huge impact! It resulted in:
3.3M views on the prequel video content.

3.8M+ views on the winning animated digital short.

2,100+ amazing comments & votes from our community.
"Awe! That gave me amazingly good frightening chills down my spine when I watched the clip! That was so amazing!" - Wattpad community member