11M
views of the A Quiet Place trailer by Wattpad's Horror & Thriller fans
2.9M
engagements (taps + views) were received for the Tap Story and custom Tap teaser video
A Quiet Place finds its audience on Wattpad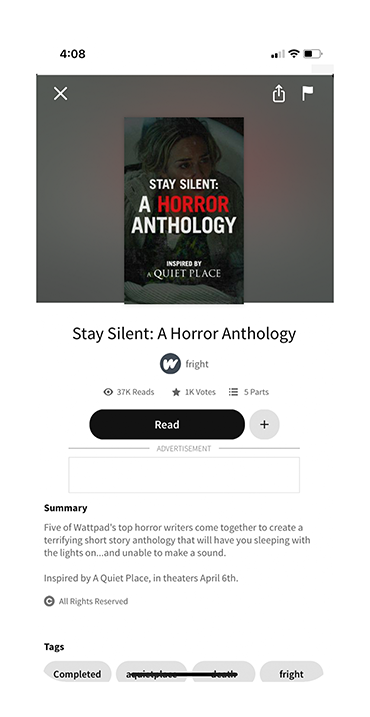 To drive awareness and build excitement towards the release of A Quiet Place amongst Wattpad's large group of dedicated horror fanatics.
We created two unique executions on both Wattpad and Tap that brought the thrills and chills of horror, directly to our community.
On Wattpad, five Wattpad influencers wrote short stories inspired by A Quiet Place, which was turned into a horror anthology hosted on our @fright profile. Targeted video ads were then placed within these 'edge-of-your seat' stories for fans to consume and enjoy.

On Tap, we created a custom chat style story incorporating GIFs and image stills from the movie. The story ended with a 15 second trailer encouraging people to go watch the movie on release day.
This was a successful campaign that got everyone in the Wattpad and Tap universes to engage with entertaining content about A Quiet Place. It resulted in 11M trailer views and 2.9M engagements!
"Paramount extended their outreach to younger audiences online via custom programs with Wattpad, in which top horror writers from the platform came together to write stories inspired by the film and with CryptTV, where they produced and distributed original video content to thriller and horror fan."
-Deadline