90K
users read the "Food for the Heart" story
1.5M
minutes were spent engaging with Athenos content
25%+
of users purchased an Athenos product after reading commissioned content
"Food for the Heart" with ATHENOS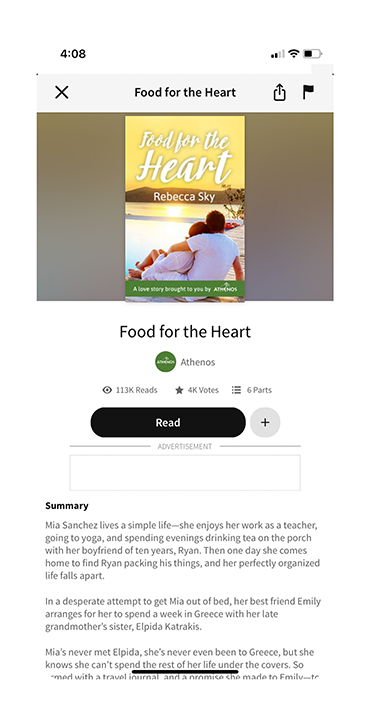 Generate awareness of the Athenos brand among millennials and educate the market on new uses of feta cheese. They wanted to make Feta cheese…sexy again.
We connected Kraft with Wattpad's top chick-lit writer Rebecca Sky, who brought Athenos to life through an original story—Food for the Heart. The story follows Mia Sanchez on a journey of self-discovery and touches on themes of adventure, travel, food and romance. Delicious and enticing recipes using feta cheese were seamlessly integrated into the campaign.
The campaign positively impacted intent to purchase and brand favorability for the Athenos brand.
Fans spent over 1.5 million minutes engaging with Athenos content.

25.6% of users purchased an Athenos product after reading commissioned content.

Kraft saw a 21% lift in brand as users who engaged with Athenos commissioned content were more favorable to the brand.