+25.4%
increase in likelihood to purchase Ben & Jerry's in the next 30 days
Ben & Jerry's Canada engages the LGBTQ+ community with a write-a-thon.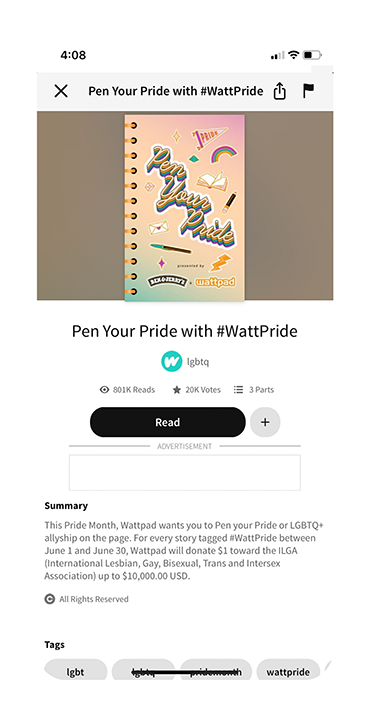 Drive positive brand sentiment, increase awareness of LGBTQ+ community involvement and support, and increase likelihood to purchase Ben & Jerry's amongst Wattpad's Gen Z audience.
The first-ever branded write-a-thon, Pen Your Pride was launched on Wattpad in conjunction with June 2018 Pride Month. Pen Your Pride challenged the community to raise funds for a great cause, just by doing what they love…writing! We asked that they write a story about when they felt proud to be a member or an ally of the LGBTQ+ community.
And, for every story written, using the tag #WattPride, Wattpad committed to donating $1 to IGLA (International Lesbian, Gay, Bisexual, Trans and Intersex Association). With the goal of generating 10,000 stories, we committed to donating $10,000 to this initiative!
The campaign received one of the highest number of submissions in a branded campaign on Wattpad and generated 591,000 engagements globally.

The campaign received 911 Canadian submissions, becoming the most successful Canadian-branded initiative at the time.