7.6M
impressions throughout the campaign
6 in 10
users said the ads stood out compared to other types of advertising
1,960
high-quality story submissions
Clean & Clear garners overwhelming emotional response from the Wattpad community!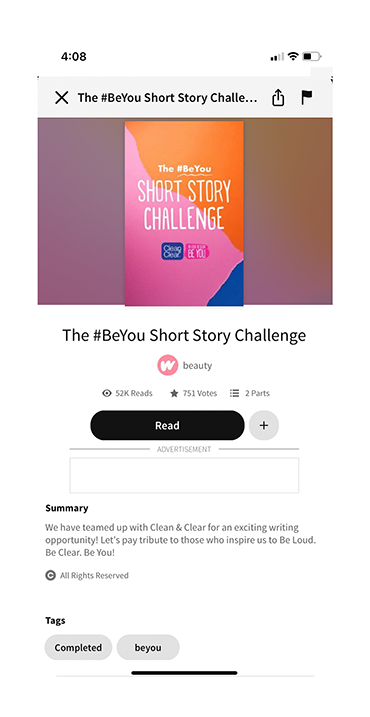 To generate content around Clean & Clear's "Be Loud. Be Clear. Be You" mantra, and position their Lemon Face Scrub, Overnight Jelly Mask and Morning Burst Oil Sheets as the leading products that embody this message.
Launched the #BeYou Short Story Challenge on Wattpad, inviting the community to share their personal stories about someone who inspires them to be their true, unique selves.

In order to increase awareness of the campaign, Wattpad's Beauty profile was fully branded with Clean & Clear, becoming the first brand to do a top to bottom takeover of the profile.

Media placement on Wattpad stories drove readers to the Short Story Challenge page
The #BeYou Short Story Challenge resulted in 1,960 passionate, very high-quality story submissions!

In total, the campaign drove more than 7.6M impressions.

The campaign drove a more favorable brand rating through a 9% lift in brand consideration, a 15% lift in purchase intent, and a 15% lift in in brand recommendation among those exposed to the campaign.