63%
of Wattpadders who engaged with the campaign said they'd be more likely to enjoy a Coke the following week
10.8M+
minutes of engagement was spent with Coca-Cola content on Wattpad
60mins
average time spent consuming content
Coca-Cola drove campaign awareness through prompting Wattpad fans to engage with their content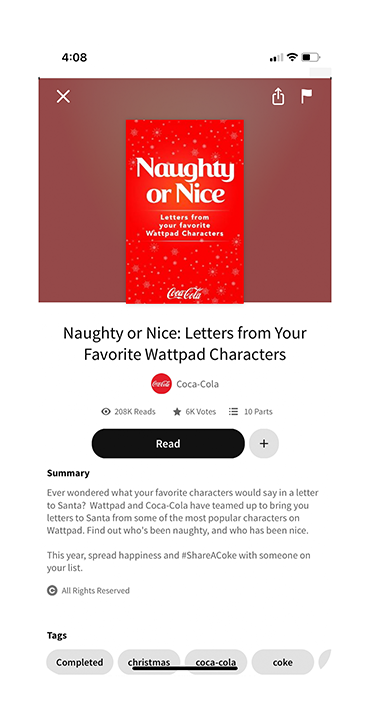 Coca-Cola wanted to create mass awareness of their Naughty or Nice campaign in a way that was native to the predominantly millennial and Gen Z Wattpad audience.
Coca-Cola tapped into fans of our most popular stories by having our Wattpad Stars write letters to Santa from the point-of-view of the main characters from their most popular stories.
On average, readers on Wattpad spent 60 minutes consuming content in Coca-Cola's reading lists! Additionally:
Coca-Cola commissioned content and reading lists received 2.3 million reads in the United States.

10.8 million minutes were spent reading Coca-Cola commissioned stories and curated content.

When asked whether a user was likely to drink a Coke within the next week we saw a 63% lift among those who followed the Coca-Cola profile and engaged with Coca-Cola content compared to a control group.

Coca-Cola delivered on Happiness by creating meaningful connections with the Wattpad audience over the shared love of great storytelling.