130K+
reads on H&M commissioned stories
1.2M+
minutes were spent engaging with H&M curated content
400K
total brand engagements during the 6 week campaign
H&M launches #ladylike with Wattpad shoppable style boards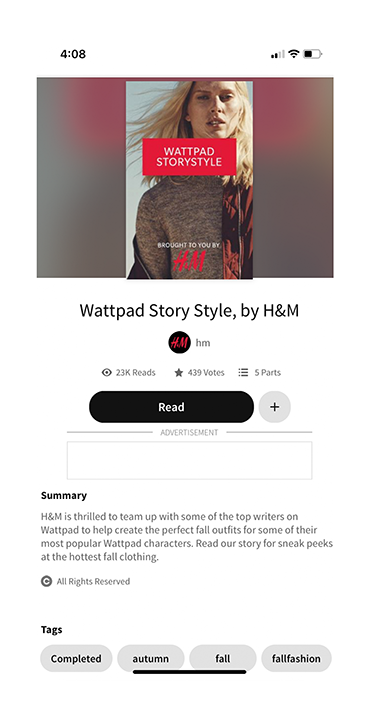 H&M wanted to create a movement empowering millennial women, showcasing how #ladylike today can be anything they want it to be.
Five of our most influential Wattpad Stars created bonus chapters for their most popular stories, dressing their leading female characters with trendy items from H&M's #ladylike Autumn Collection. Product links were included on style boards with click-throughs to H&M's e-commerce site for users to purchase.
H&M's #ladylike campaign received gold distinction under the emerging platform category at the 2016 Shorty Awards.
130K reads on H&M commissioned stories

1.2M+ minutes were spent engaging with H&M curated content

400K total brand engagements during the 6 week campaign

Featured items SOLD OUT!