3.5M
views on video content
1.5M
views of the Promposal video on YouTube
JCPenney partnered with Light as a Feather cast members to launch the #DreamPromposal contest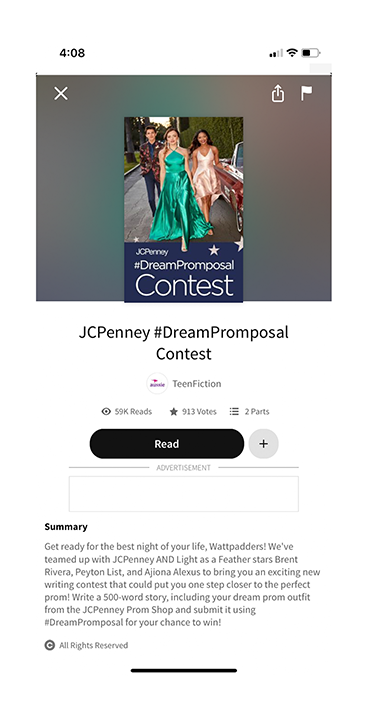 JCPenney wanted to generate mass awareness and affinity for their 2019 Prom Line.
We teamed up the cast of Light as a Feather to give writers the chance to win one lucky #DreamPromposal.

In 500 words or less, we challenged our community to share a story about their dream prom, including their dream prom outfit.

We pushed out a high impact video featuring Light as a Feather cast members between chapters of our most relevant stories, becoming the first-ever writing contest leveraging talent from Wattpad's own IP!

7 of Wattpad's top influencers were called upon to create Prom-themed bonus chapters in some of Wattpad's most beloved stories.
The campaign drove massive engagement, generating 532 submissions of one-of-a-kind Promposals featuring characters taking inspiration from JCPenney's Prom Line!

Our community was thrilled with the campaign, leaving 11,000+ amazing comments and votes, and reading the contest story and influencer chapters 185,363 times.
Click here to read how the campaign won an influenceTHIS award in Best in Contests, Challenges and Giveaways!