344%
increase in views during Wattpad Fan Fest for Kumu
Wattpad partnered with kumu, the Philippines' #1 livestreaming app, to bring the Pinoy Wattpad community closer than ever before.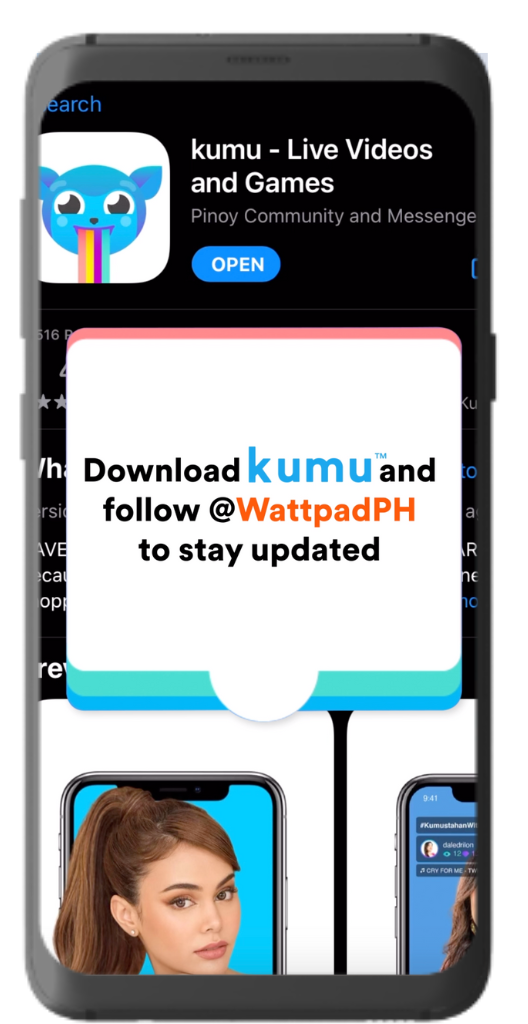 Power user acquisition, drive retention, and launch commerce and fan monetization opportunities for kumu by leveraging the power of Wattpad creators, all while strengthening the relationship between creators and fans in real time.
Created the WattpadPH channel on kumu to help readers and writers engage, connect, and collaborate with fellow Wattpadders in real time through regular programming.

Launched our first-ever virtual event on kumu, Wattpad Fan Fest, allowing the community to connect with their favorite writers and other fans.

Enlisted 49 Wattpad creators and ambassadors, including @CeCeLib, @maxinejiji, and @blue_maiden, to be the faces and hosts of our kumu activations. to be the face

Mobilized 6 of our Creators to host Write-with-Me livestreams, where they wrote a bonus chapter of one of their stories live with their fans on kumu.

Developed programming of 5 livestream shows on the kumu channel: Watt Now?, Wattpad Stars AMA, Fan Quiz, WattpadPH Book Club, and Write-With-Me to give fans and writers dedicated spaces to interact.

Incorporated a full-stack media plan with native and mobile ads to drive traffic to the @kumuph Wattpad profile and kumu's external landing pages to encourage app downloads.

Executed a promotional plan that included community-based giveaways (cash prizes and kumu coins), pre-stream raffles, and activations on our PH Wattpad Creators and Wattpad Ambassadors pages to increase user retention and drive traffic to livestreams.
The collaboration garnered more than 60.4M paid media impressions, driven in large part through Wattpad's native and mobile ads.

Earned 22.8K+ new users for kumu within 7 days of creating the WattpadPH channel, and a total of 54K followers of the WattpadPH channel on kumu to-date.

Drove 1.8K+ total app installs for kumu from custom links and profile shares.

Gained 23M+ total engagements, and more than 2M livestream and social media views across the overall campaign.

The six Write-With-Me bonus chapters garnered 879K reads, showcasing high fan engagement and exceeding benchmarks for kumu.

Reached 4.5M engagements in one hour during the Write-With-Me livestream due to fans' excitement over Wattpad creators' @4reuminct and @maxinejiji's appearances.

Wattpad Fan Fest was a hit with fans asking for a second season and more individual streams! From this activation alone, we earned kumu a 54% increase in fan monetization (kumu diamonds).