221K+
reads on contest prompt
Wattpad and Maybelline came together to break the stigma around mental health with the #BraveTogether initiative. Together, through words and actions, we increased brand love, created deeper audience connections, and delivered tangible support to those in need.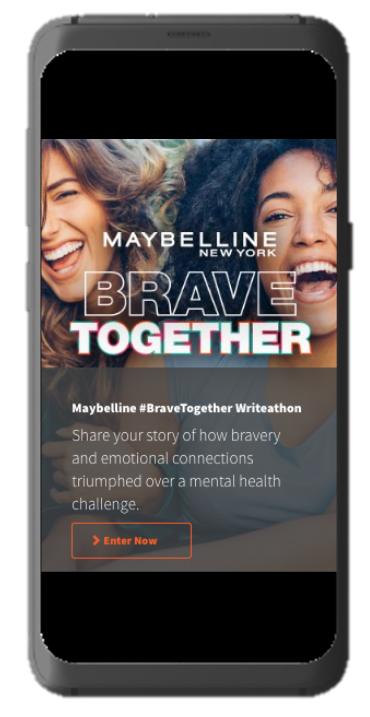 In celebration of Mental Health Awareness Month and National Coming Out Day we launched a two-part campaign under the #BraveTogether initiative to spread awareness about the importance of mental health, all while deepening brand love for Maybelline with Gen Z and Millennials.
Our first write-a-thon encouraged the community to share their personal stories about mental health on Wattpad's @Maybelline profile.

Our second write-a-thon prompted the community to send a letter of support to their younger selves in relation to their coming out experience, for National Coming Out Day.

Launched a custom hub, containing top-to-bottom Maybelline branding, where users could find write-a-thon updates, share comments, and interact with other users about the #BraveTogether initiative. The hub gave the community a platform to connect, support, and lift each other up through these stories and shared experiences.

Incorporated an extensive and engaging media plan surrounding the #BraveTogether initiative for Mental Health Awareness Month and National Coming Out Day that included custom display and video units on mobile and web.

Enlisted 10 Wattpad influencers to kickstart the write-a-thons and inspire readers to get involved in the discussion.

Triggered a $1 donation with every story tagged #BraveTogether, with a goal of up to $10K for each write-a-thon.

Kicked off our first-ever branded #WattpadSpeaks event on Youtube We invited Wattpad Stars Jo Watson (@JoWatson_101), Sky Chase (@unfortunatelysky), and Rachel Meinke (@knightsrachel) to take part in an authentic and intimate conversation around mental health, creativity, and community.
The #BraveTogether Write-a-thons resulted in 37,421 entries and received overwhelmingly positive audience sentiment!
In total, all media drove over 84M impressions! This engagement reflects the importance of mental health from the two causes across the Wattpad community.

We turned the top stories into two mixed media short films.

The two-part campaign accumulated more than 221K reads on the contest prompts.

The promotion of the #WattpadSpeaks event saw 7.1M impressions, 86K clicks, and 21K likes, comments, and shares across our social media channels.

The #BraveTogether initiative drove significant lifts for Brand Consideration, Recommendation, and Favorability, with very positive audience sentiment and high recall.

The overall campaign received media attention from Global Cosmetic Magazine and INTO, among others.

We hit our story entry goals and donated a total of $35K to Crisis Text Line and The Trevor Project, making a tangible impact on at-risk youth.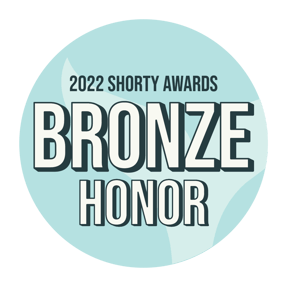 Mental Health Awareness Month