$40,000 USD
in donations raised
Wattpad partnered with Maybelline for a second year in a row, to smash the stigma around anxiety and depression in honor of Mental Health Awareness Month 2022.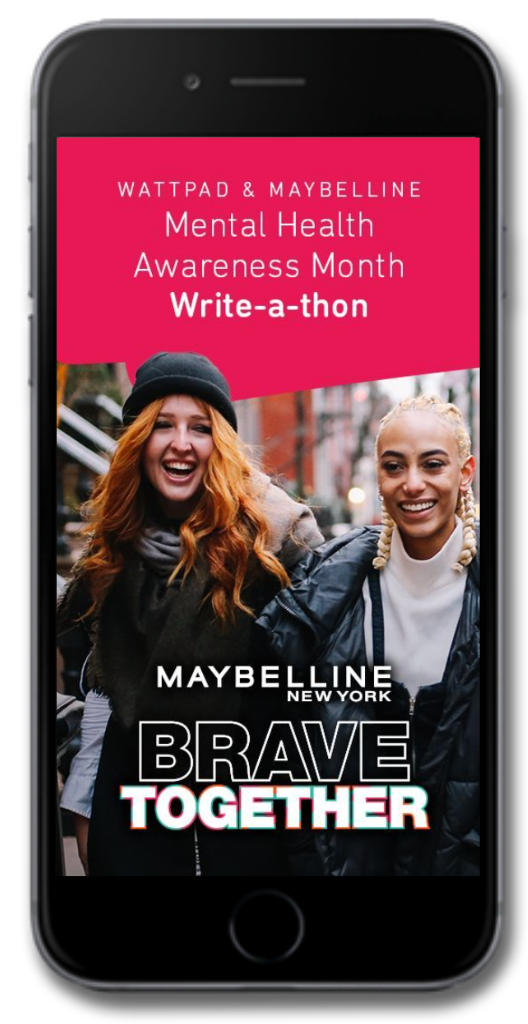 Prompted the Wattpad community with weekly writing challenges and leveraged human connection to drive awareness of Maybelline's #BraveTogether initiative and raise funds for 4 different non-profit organizations that support youth mental health.
Launched a month-long campaign with a different writing prompt for each week. Each writing prompt raised funds for different non-profit organizations focused on supporting youth's mental health.

Fully re-skinned and transformed the @Maybelline profile on Wattpad to reflect the 2022 campaign and serve as an informative hub and resource center for the Wattpad community

Enlisted 6 Wattpad Creators, including @unfortunatelysky, @knightsrachel, and @emilylindin, to share their real-life experiences with mental health and encourage their fans to participate in the write-a-thon.

Executed a full-stack media plan that included custom media assets, native media units, custom targeted media, and in-app home feed carousel takeovers to drive traffic to the @Maybelline profile, the weekly writing challenges, and the #WattpadSpeaks event.

Developed a comprehensive social media strategy across 3 channels (Youtube, Twitter, and Facebook) to promote the different initiatives of the campaign.

Launched a #WattpadSpeaks event on Mental Health Awareness, featuring three influential Wattpad Creators and New York Times best-selling author of the "After" series Anna Todd, to create a safe space for connection and open discussion on the importance of mental health.
This first-to-market write-a-thon generated 57k reads and 7.1k story comments and votes, exceeding last year's story engagement results by more than 207%!

Our media plan drove 44.6M+ total impressions.

The partnership attracted significant press coverage from a number of media outlets including wwd.com, Financial Post, FashionUnited, Cosmetics Business, City Guide New York, Metro Family Magazine, Ever Out, and Uncover LA.

Gained 598k+ social media impressions and 18k+ reads in one day from the home feed carousel takeover and push notifications.

The #WattpadSpeaks event led by Anna Todd earned 8.1M+ total impressions.

We donated a total of $40,000 USD and drove more than 1.1k link clicks to our non-profit organization partners (Sad Girls Club, The Loveland Foundation, The Jed Foundation & The Ali Forney Center) which made a tangible and meaningful impact on Gen Z & Millennials and reinforced the importance of the campaign.

Our Wattpadders showed an outpouring of support to these organizations and voiced their gratitude to Wattpad and Maybelline for creating healthy and safe conversations around mental health.