45mins
average user engagement with Zo
Microsoft experimented with AI and creative writing engagement through the #WriteWithZo writing contest and feature!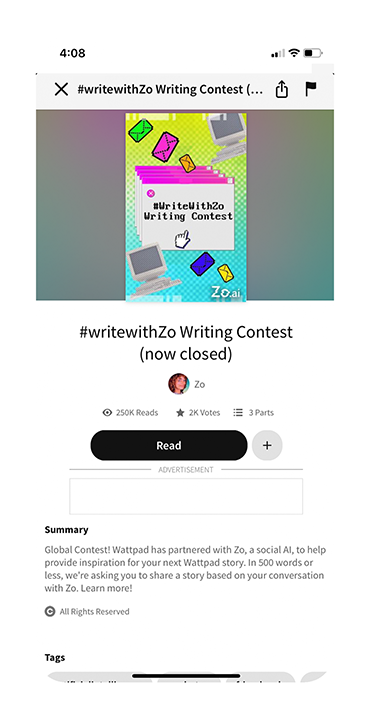 Microsoft wanted to deliver a unique, inspirational experience via an AI creative writing assistant conversational feature.
We invited our community to interact with Zo to get inspiration for their next story.

After learning about Zo, they were driven to interact with her via Facebook, Twitter, and other platforms, and then post their story to Wattpad, creating a wave of Zo-inspired tales.

We created a @Zo profile with the contest story and promoted it through native ad units, including video, and on Instagram Stories.

Two Wattpad influencers wrote original stories based on their conversations with Zo, and prompted their followers to do the same.

As a campaign extension, we implemented a Zo activation at WattCon, Wattpad's highly anticipated conference for writers, where participants were able to chat with Zo to get their next story idea.
The #WriteWithZo writing contest was a huge success, resulting in 802 global story entries! The campaign drove 247k reads on the #WriteWithZo contest story and the :6s video unit had an impressive CTR of 1.61%.