28M+
views of the Planet or Plastic video
National Geographic raises awareness of the plastic crisis through the first-ever global writing contest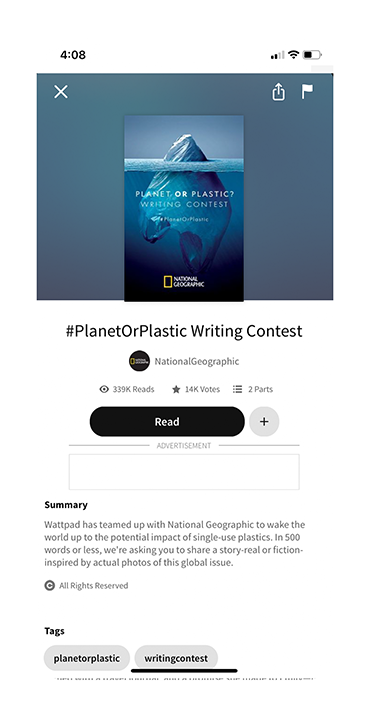 National Geographic's "Planet or Plastic?" initiative was aimed at raising awareness of the global plastic crisis. The goal was to see 3,000 story entries that would inspire the community to reduce their use of plastic and sign the Planet or Plastic campaign pledge.
Invited our community to share a story- real or fiction- inspired by real National Geographic photos of the global plastic crisis.

Pushed out a high impact :20s Non-Skippable video between chapters of our most relevant stories, driving to the pledge site.

20 of Wattpad's top influencers were called upon to create example submissions for the contest, bringing massive awareness to the cause.
The campaign sparked a global conversation around single-use plastic and the response from our community was incredible; the number of story entries was more than double the goal! The campaign generated 75K campaign pledges, equating to 90M plastic items pledged to be eliminated. It also won a Shorty Social Good Award and a Digiday Content Marketing Award
"Storytelling is among the most impactful forms of advocating for positive change, and by partnering with Wattpad we will engage a passionate, global community of readers and writers to help inspire the next generation of stewards for our planet."!
-Jill Cress, CMO, National Geographic