9.4M+
impressions across native ads and social media activity
30K+
minutes were spent reading Quattro YOU original branded content in Canada
Quattro YOU brings the "story of of year" to Wattpad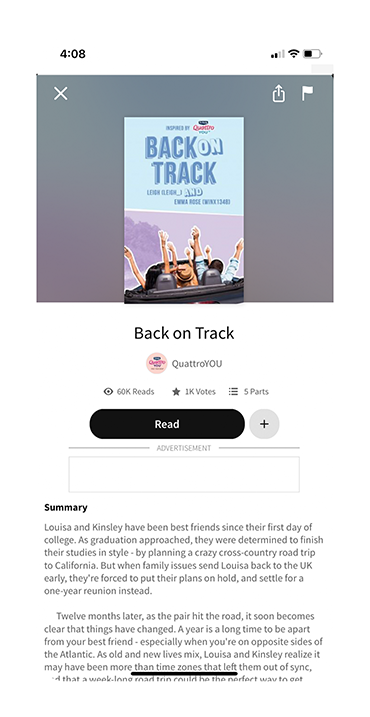 Quattro YOU wanted to drive awareness and intent to purchase of Quattro YOU's new disposable razor amongst female Gen Z & millennial audiences on Wattpad.
Five of Wattpad's top influencers created original branded stories inspired by key milestones in a young woman's life. These thoughtfully crafted stories further amplified Quattro YOU's "Story of the Year" objective, allowing readers both on and off Wattpad to connect and engage with the brand and encourage purchase of the new razor.
As a primary launch partner in Canada, this was a successful campaign for Quattro YOU with a mix of branded content, native ad units and social media touchpoints.
The campaign resulted in over 9.4M+ impressions across native ads and social media activity.

Users spent 30K+ minutes reading Quattro YOU original branded content in Canada.

A resounding 679K+ brand engagements overall.
"Wattpad is a platform for sharing stories, so we thought this would be great take on a traditional social campaign."
--Ling Chung, Brand Manager for Schick Disposables at Edgewell Personal Care Canada.