30K+
reading minutes on contest submissions
The combination of peanut butter and chocolate has got to be one of the greatest duos in history. Another great combo? Wattpad and REESE'S! That's why Wattpad teamed up with Reese's to build excitement around everyone's trick-or-treat favorite by leaning into our audience's love for all things horror and Halloween.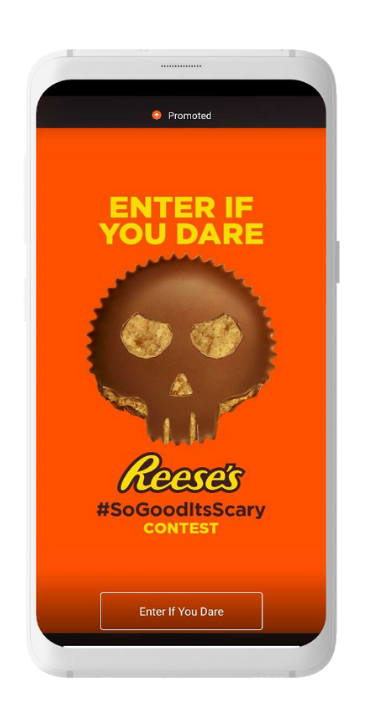 To celebrate Halloween, we launched the #SoGoodItsScary writing contest and asked our 18+ community to write about the scariest duo or combination they could imagine, making Reese's top of mind for our Wattpad community during the spookiest and most candy-crazed of seasons.


Launched the #SoGoodItsScary writing contest on Wattpad's @fright profile, inviting the community to tap into their creativity and share their scariest stories.

Wattpad worked with 2 of our top thriller and suspense writers to kick off the #SoGoodItsScary contest, bringing awareness to the campaign and inspiring the community to participate.

Custom high-impact native units were leveraged across Wattpad to promote the contest with certain video and display units driving purchase intent for Reese's Halloween candy.

Reese's judging panel chose five winning entries who were announced on Wattpad's @fright profile, and received a Wattpad Halloween prize pack, as well as bragging rights - until next Halloween!
The #SoScaryItsGood writing contest exceeded our attainment goal and drove high interest and engagement across our community!
The contest received 310 entries and over 24,000 engagements across all branded content.

In total, all media drove more than 13M impressions

The community spent a whopping 30,000+ minutes reading the contest story submissions

Custom ad units performed at 109% of the forecasted target.