6.6M+
social impressions on and off Wattpad
Shaw Rocket Fund engaged Canadian teens and highlighted diverse storytelling through the creation of Wattpad's first story-turned-podcast competition!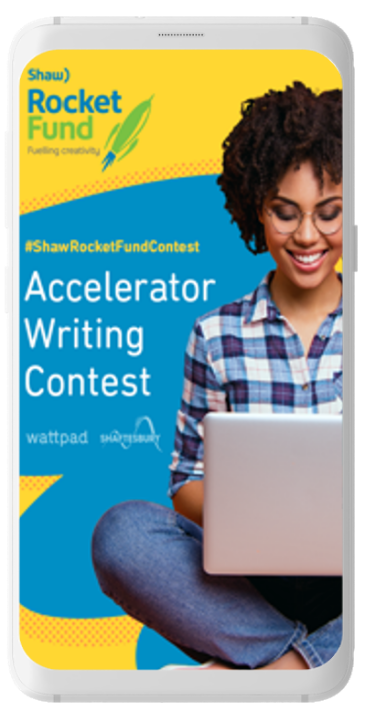 Shaw Rocket Fund wanted to build brand affinity within Wattpad's diverse community and inspire teen authors to share inclusive storylines.


We launched the Accelerator Writing Contest,
the first-ever story-turned-podcast competition.
In 1,500 words or less, we challenged our teen community to share the start of a story rooted in diversity, offering them the chance to win an internship with Shaftesbury to hone their writing craft as well as see their story turned into a theatrical podcast!
The contest was hosted on the @RocketFund
Wattpad profile and was promoted on social as well as betweenchapters of our most popular stories to encourage writers to enter the contest.



Wattpadders were thrilled with the opportunity,
and the top 10 stories were featured in a reading list on the @RocketFund profile where the whole community could read and comment on the amazing entries!

Additionally, the campaign drove:
284 inclusive storylines submitted by Canadians and 162 additional entries from writers of all ages globally for a total of 446 stories.

27,800+ reads & thousands of engagements on social as well as through the contest Story Prompt.

This campaign generated more than 6.6 million social impressions.

Nine finalists also had the chance to receive a coaching session from three of Wattpad's top BIPOC Canadian Stars, driving further engagement.

The winner will receive a virtual internship with Shaftesbury, access to their writer's room, and three private coaching sessions with acclaimed editor of the
Hunger Games, Jennifer Rees, to help move
their story to completion.

Best of all, the winner will see their story turned into
a 10-part theatrical podcast, which will be shared across our platform and social handles!