7 in 10
who engaged with the campaign were more likely to recommend T-Mobile
22%
lift in brand consideration
T-Mobile engaged the LGBTQ+ community through the #UnlimitedPride write-a-thon!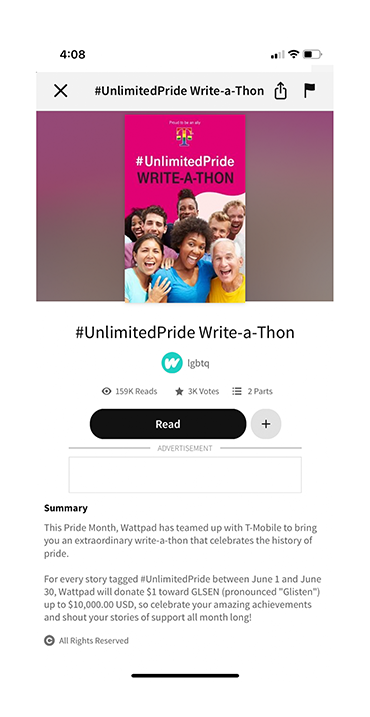 T-Mobile wanted to show their support for the LGBTQ+ community by increasing awareness of the history of the Stonewall riots and the role it played in Pride.
Launched the T-Mobile #UnlimitedPride write-a-thon where we challenged our writers to share authentic stories, and educated them on the role the Stonewall riots played in the history of Pride.

With the goal of 10,000 entries, we committed to donate $1 to GLSEN, up to $10,000, for every story submitted!

The LGBTQ+ profile was fully rebranded with #UnlimitedPride.

4 of Wattpad's top LGBTQ+ influencers shared their own stories.
Our community was thrilled with the write-a-thon! The campaign resulted in:
More favorable brand rating (21% lift) and brand consideration (22% lift) among those who engaged with the campaign.

Increased brand awareness post-campaign exposure (95% vs. 86% over control)