1,9M+
minutes were spent reading commissioned and curated content
3M
paid and earned impressions were garnered overall
189K
total campaign engagements
The Girl On the Train comes to Wattpad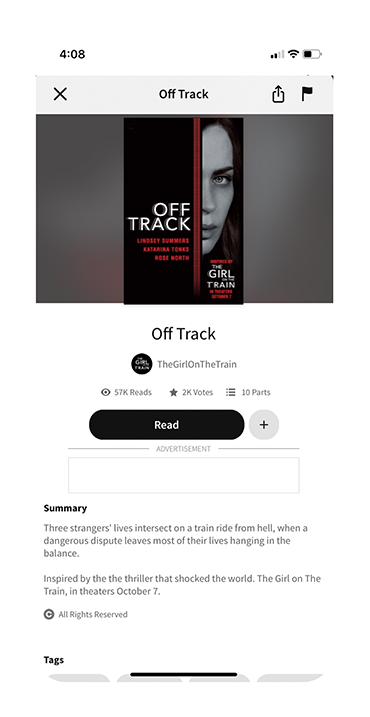 Universal Pictures wanted to build awareness for the popular thriller, The Girl On The Train movie release on Wattpad by engaging new and existing fans on the platform.
In order to create some edge-of-the-seat content, we asked three of Wattpad's top writers to collaborate on a single high-octane story, inspired by the themes in The Girl on the Train. As part of the campaign, creative full-page interstitials ran alongside curated action, adventure and mystery stories to promote the movie release to community members who love those genres.
This was a collaborative first campaign that drew in a diverse, passionate audience of both new and existing fans alike.
Readers spent over 1.9M minutes reading commissioned and curated content.

Over 3M paid and earned impressions were garnered overall.

The campaign attained over 189K engagements.