Feb 15, 2018
3 Hidden Places Brands Can Target Millennials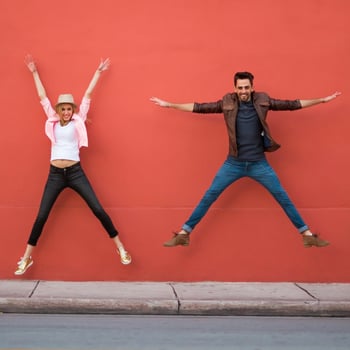 While not all Millennials are the same, it's helpful for marketers to understand what they have in common as brands continue to search for ways to reach them.
It's hard to overstate the impact – and opportunity – that 80 million North Americans have on purchasing decisions. The collective buying power of millennials? $1.3 Trillion. A quick Google search on "how to market to millennials" returns 31,400,000 results. It seems everyone is trying to crack the code on how to connect and convert this demographic.
Millennials Demand a Different Experience
Millennials are a new breed. They demand more than just passive consumption. This demographic is accustomed to personalized experiences. They are a generation who wants to reflect on every experience -- commenting on and reviewing events on social media, and creating new types of connections in the process. They want to feel unique. Their buying habits often align with their core values such as environmentalism and philanthropy. And they've made it abundantly clear that they prefer their transactions on mobile devices.
Consider the "second screen" phenomenon. Millennials are eager to interact with, not just passively watch, TV shows and reach for their "companion devices" (smartphones and tablets) to comment, connect, and otherwise flood media channels with feedback in real-time, while watching their favorite programs. Second screen activity has expanded to music platforms and e-readers, and now includes purpose-built apps to accommodate the growing trend. It has become another avenue for businesses to reach these powerful digital consumers.
Here are three other little-known sources of millennial hotspots.
Bookmark this! Millennials read more than any other generation – including those over 65. A full 80 percent have a read a book in the past year. They read with purpose and they read for pleasure. And they like to read on digital devices.
Some say growing up in the age of Harry Potter may have contributed to this surge, but evidence points to the invention of e-readers, reading apps, and the ubiquity of smartphones and tablets. Thirty-two percent of millennials consume content on reading apps; women reading more than men.
On Wattpad, 65 million readers spend 15 billion (that's right, BILLION) minutes every month reading. Our platform allows readers to consume unique user-generated content aimed directly at their interests. Some readers even create their own fan fiction as an add-on to popular entertainment titles on this second screen, or simply comment on and rate stories.
Audiences on Wattpad can truly self-identify around causes that appeal to them such as LGBTQ or people of color (#PoC). Plus, popular story genres on Wattpad range from K-pop, zombies, sci-fi, biker boys and more, so there's plenty of unique content that suits many users' interests.
2.

Millennials listen to podcasts
Podcasts are not new but they continue to draw a huge number of listeners, predominantly millennials under the age of 35, half of whom listen regularly. Audiences are educated and affluent and tend to listen at home and in their cars, using smartphones as their player of choice.
Podcasts are the number one audio source by time of consumption among podcast listeners, according to Edison Research. Watch out for the youngsters: Gen Z, 12-17 year olds, are twice as likely to listen to a podcast than any other generation.
3.

Millennials have unique shopping habits
You might be surprised to learn that millennials make up one-third of all resale & thrift store purchases. Thirty percent have shopped resale in the last 12 months and plan do so again soon. The thrift business is an $18 billion a year industry, expected to grow to $31B by 2021, supported in large part by millennials.
Shopping secondhand appeals to millennials' desire to be unique, and aligns with environmental values of reuse. Affordability is also a key driver; average savings online run 79 percent off retail.
Another innovative shopping trend among millennials is flexible loyalty points. A new app, aimed squarely at this demographic, is making it possible to accrue points with purchase at any participating retailer and spend them at virtually any other. Think points from Starbucks paying for a book on Amazon. ClassPass in another great example of flexible consumption; this mobile app lets you work out at any participating club without a commitment.
As brands continue to search for ways to reach potential buyers, it helps to understand these new personas. Not all are the same, but they do have these things in common:
· They are digital natives who prefer mobile devices
· They expect their voices to be heard
· They are educated and informed
· They seek more personalized experiences
· They are active (not passive) consumers
Happy hunting!
Interested in learning more about Wattpad Brand Partnerships? Contact us at brandpartnerships@wattpad.com.