Jul 23, 2019
Meet Gen We, a Socially Conscious Cohort of Gen Z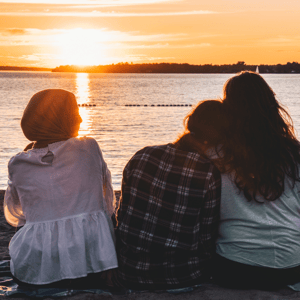 Thanks to social media, Gen Z has garnered a reputation for vanity that may not be accurate. Although it's not always obvious, not every member of Gen Z finds themselves tethered to social media. In fact, 20-60% of Wattpad users are not on some of the "key" social media platforms at all. Of our over 80 million global monthly users, 20% aren't on YouTube, 30% aren't on Instagram, and a whopping 60% aren't on Spotify (according to AppAnnie 2018).
It got us thinking. Why are all Gen Z's painted as selfie-obsessed digital natives focused on growing their social following if they're not ALL actively participating in image curation and influence on social platforms? According to WGSN, Gen Z can be broken up into two groups. The first is the ever-popular take on the generation—the "internet obsessed" group often called "Generation Me." The second is a cohort that hasn't been given much media attention at all.
The second group is called Gen We.
The polar opposite of Gen Me. Despite all the ominous think pieces focused on the perils of social media, Gen We hasn't made it into the conversation, possibly due to their unconventional relationship with the online world.
Unsurprisingly, Gen We are beginning to shake things up. They're commanding attention and demanding genuine social impact from brands. They trade FOMO for JOMO, they choose to create a new path instead of copying the highlight reels of their peers, and they'll swap their smartphone camera for their keyboard when they're ready to express their beliefs and creativity.
Gen We thinks beyond hashtags.
If they're going to hop on a bandwagon, it won't be to post a #10yearchallenge. You can find Gen We's social media posts brimming with things that invoke social change like #BlackLivesMatter and #WomensMarch. Gen We's goal is to bring awareness, reform, and a real social purpose by showcasing their beliefs on social media.
At Wattpad, we connect with Gen We, allowing them to shape their own cultural narratives through stories not yet seen by mainstream media. Our users spend up to 1.7 million minutes reading stories related to #MuslimRomance and 107 million minutes reading stories related to #Feminism. Time spent reading stories tagged #POC, #Diversity, and #DiverseLit went up 41% between 2017 and 2018. The story arcs created by Wattpad users are a clear insight into the beliefs that matter most to Gen We.
Connecting to this group of self-aware youth goes far beyond jumping on a bandwagon and calling oneself an ally. It's important to have a real position that Gen We can connect with and feel represented by. This group of digital natives views consumption as a way to express their individuality and showcase their ethical beliefs. Diversity is more than a simple thought for Gen We. It's a lived experience. They want to see themselves and their ethical concerns reflected in the brands they choose to support. So the question for marketers is: what have you done for Gen We lately?
Get to know Gen We
Want to know how to reach Gen We? Download our latest report JOMO - The Joy of Missing Out.