Mar 27, 2019
The Story of After from Wattpad to Hollywood
Anna Todd's Wattpad sensation with over a billion reads is now one of the most-talked about movies of 2019!
Do you know any diehard young adult romance fans (perhaps you're one yourself)? Then it's most likely you've heard them gush over one of the most highly anticipated romance movies of 2019, the upcoming release of After, slated to appear on silver screens worldwide starting April 12.
The obsession behind the romance story and movie has been met with global media attention. The movie is based on a book by Anna Todd, which became a viral sensation in every sense of the word when it was released; fans would send Todd images of the lead characters, create book-themed playlists on Soundcloud, and roleplay characters on Twitter. At a recent book signing in New York with Todd and movie cast members Josephine Langford and Hero Fiennes-Tiffin, more than 300 people camped out in the cold for the night to secure their spot in line. As of today, the After movie trailer has been viewed over 19 million times.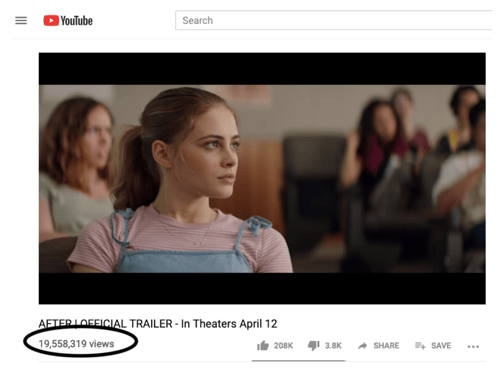 Anna Todd grew up in Ohio and started writing the first book in the After series in 2013 when she was just 24 years old and living near Fort Hood, Texas, as an army wife.
She wrote the story on her iPhone and posted it to Wattpad, chapter by chapter, and by 2014, the story had been read 1 billion times! The story follows innocent bookworm Tessa (Langford) and her tortured romance with Hardin (Tiffin), a magnetic, brooding rebel who makes her question everything she thought she knew about herself and what she wants out of life. Todd would tweak the story narrative based on comments from her readers, becoming a true crowd-sourced sensation.
Before After was a published book and movie, Todd was a relatively unknown author
Todd quickly rose to fame and became "the biggest literary phenomenon of her generation." Today, there are over 1.6 billion reads on the After series on Wattpad. Five books in the series have been published by Simon & Schuster, with 15 million copies in print in 40+ countries, becoming a both a national and global bestseller. When the teaser trailer dropped in November 2018, it received over 4 million views in a matter of weeks. We're not even talking about the movie trailer here, but the teaser to the movie trailer! Talk about fandomonium! The day the teaser trailer was released, it also drove a huge surge in searches of After-related keywords on Wattpad.
Anna Todd exemplifies the impact of the new type of influencer
Todd, who never thought she would have the chance to become a writer, has become one of the world's pre-eminent romance authors and her fan engagement has translated to extraordinary media impact. Her social media following is now over 1.8 million, which includes hundreds of thousands of "superfans" who look to her for inspiration. She is influencing culture; classic literature mentions in the After series (the lead characters have an obsession with authors like Charles Dickens) can be correlated with a spike in reading classics such as Pride and Prejudice on Wattpad.
Influencer marketing is one of the most effective ways to reach Gen Z. They are the first generation that values digital influencers more than any other celebrity; they relate to authentic creators and storytellers. Want to find out more about what makes Gen Z tick...or Tik Tok?
Wattpad is reinventing how entertainment gets made, and we're empowering diverse voices and storytellers all over the world to propel their careers for success on and off of the platform. Brands have the opportunity to align themselves to unsigned, untapped talent on Wattpad as they rise to mainstream acclaim. Want to place your brand front and centre with the next big hit on Wattpad and tap into the fan bases of up-and-coming influencers? Get in touch at brandpartnerships@wattpad.com and learn how to drive relevancy and meaning with Gen Z.
So, want the TLDR on After?
The After series has accumulated over 1.6 billion reads and on Wattpad

Five books in the series have been published by Simon & Schuster, with 15 million copies in print in 40+ countries

The movie will be released in theatres on April 12, starring Josephine Langford and Hero Fiennes-Tiffin

The movie trailer has been viewed over 19 millions times
Ready to make an impact on Gen Z? Download our latest report "Gen Z: The Authenticity Generation" to learn about the latest and emerging trends on this generation.
Want to learn about up-and-coming Wattpad hits? Reach out to brandpartnerships@wattpad.com to see how your brand can partner with the new type of influencers.