May 3, 2019
Want to know if Gen Z reads? Just ask them.
Gen Z was born multitasking. To the untrained eye this constant task-switching may look unfocused. But there's more going on than we give Gen Z credit for—and their book-buying habits tell the story.
It's a common misconception that the attention spans of Gen Z are shorter than previous generations. Fleeting focus may be a convenient way to explain how they go from reading to snapping to watching videos and back in a matter of moments—but the truth is even simpler. Gen Z just has more stimulus competing for their attention. Which is why you might be surprised to learn that Gen Z is not only committed to reading, but they're still out-spending everyone else on books—and heading to physical stores to do it.
Gen Z still buys books. Lots of them.
In a survey of Wattpad community members, Gen Z respondents bought more books than their older counterparts. While 52% of Gen Z and Millennials have spent up to $50 on books in the last 6 months (this increases to 65% for Gen X), 22% of Gen Z have spent between $51-$150, compared to 17% of Millennials and Gen X. They're also spending their own money on books; 60% of Gen Zs bought the last book they purchased with their own money.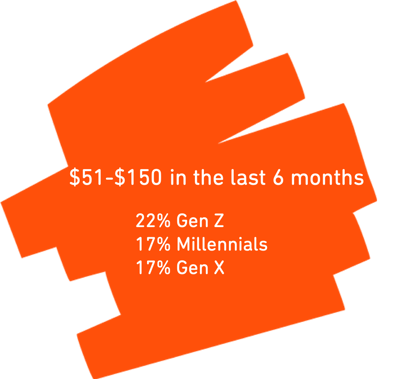 They still make time to shop brick & mortar
We talk a lot about the need to balance your Gen Z outreach with both URL (online) and IRL (in real life) activities. Let's look at this through the lens of book buying. Our Gen Z community told us the last place they shopped for books—25% of them said they purchased the book online—that number jumped to 40% for Millennials. Interestingly, 40% of Gen Z made their last book purchase in a 'large bookstore' (such as Barnes & Noble or Indigo) while this number actually shrinks to 26% for Millennials. If our recent bookstore activation for After at Indigo in Toronto is any indication—Gen Z are very much on the hunt for IRL retail experiences. (Watch the video clip below to see fans going wild for Hero Fiennes-Tiffin, a lead cast member in After)
From Wattpad to Paperback to the Screen… After got Gen Z's attention
In case you missed our breakdown of the story of After, the book's journey from Wattpad, to book to screen is the perfect indicator of Gen Z's attention span—when the content is good, they're willing to cross platforms for it. By 2014, After, a romance story published by a relatively unknown writer at the time, Anna Todd, had racked up a billion reads through a mostly-teen audience. If you're counting, that means teens were reading, then re-reading the story on Wattpad—an impressive feat for a nearly 100-part story.
When After hit bookstores, it went on to become a global bestseller.
With 15 million copies sold in print in 40+ countries, the smash success of After transcended Wattpad. (ICYMI, on April 12th the book-adapted film came to the big screen, taking the #1 spot in box offices in many markets globally including France, Italy, Germany, Russia, and Israel). Gen Z fans have lined up for hours to meet the film stars and author to have their books signed at—you guessed it—brick and mortar bookstores around the world. With the success we've seen from platform to paperback, Wattpad will launch our own publishing arm, Wattpad Books, this coming Fall 2019. The first release will feature 6 incredibly talented and unique voices from our platform; stories that were discovered through data and have garnered millions of reads to date. So while Gen Z has a lot of options to choose from, they certainly don't have a short attention span. The opportunity is still out there for you to make a strong impression. But one thing is for sure — they don't have the patience for underwhelming content.
Interested in learning how your brand can partner with the next 'After' and tap into future hits on our platform? Contact us at brandpartnerships@wattpad.com.