Oct 12, 2018
When the Beauty Gurus Broke the Matrix
Behind the powder — fans, drama, and millions of dollars.
"As a viewer, you just have to be aware of the fact these things could be happening. As an influencer, you have to be honest. Honesty is all you have in this industry. If you lose your integrity and you lose your honesty, your word means nothing." — Pretty Pastel Please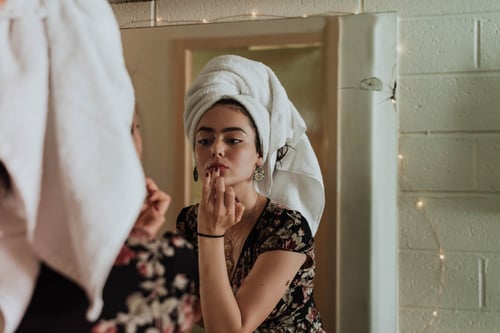 The year is 2007, and YouTube is still in its infancy. Beauty gurus — though they aren't called that yet — are bringing makeup skills and knowledge into the homes of information-starved youth. These early days of reviewing beauty products and teaching viewers how to perfect a cat-eye don't earn the gurus a lot of money. Times were simpler. People did it for the love of the game.
As more viewers pour in, everything changes — fast. Beauty brands realize quickly that these fledgling makeup mavens — now known as influencers — resonate with audiences as honest voices in a fragmented, sales-oriented, beauty market. More importantly, they learn that authenticity makes money. Reviews from popular beauty YouTubers suddenly have the power to make, or break, a brand. Times get more complicated as influencer demands skyrocket.
In a self-published video, ecommerce entrepreneur (and former influencer) Marlena Stell states that she can't afford to pay influencers the $60,000 per video that they request to review her new line Makeup Geek.
The tension between brands and influencers grows — while Marketing Week reports every £1 that a brand invests in a beauty influencer gets a return of £8.81, Stell says that CEOs consult with her about a declining ROI. By not investing that cash up-front, she gets locked out of the big returns she used to help create.
This isn't the only tension that influencers face either — the tightrope extends to viewers, as influencers face conflicting incentives — keeping brands and publicists happy for money and samples, and a need for viewer loyalty through the perception of integrity and authenticity. They're incentivized not to disclose their sponsorships, out of fear that if their viewers catch wind of the nature of their sponsor relationships, they won't keep watching. This incentive runs counter to the authenticity that made influencers valuable to viewers in the first place.
As a response to these forces, multiple influencers have come out with videos of the, "Let's talk," variety to tell their side of the story. In aggregate, this commentary paints a portrait of how an industry revolutionized by influencer marketing looks, and offers a rare glimpse into a historically opaque industry.
The Expensive Price of Influence
Let's start with how beauty influencers actually make money from brands. Typically, influencers might create sponsored videos on behalf of brands, or get paid commission through the affiliate links connected to their channels. When it comes to paid sponsorships, the dollar figure can range in the tens of thousands (e.g., $50,000–70,000 through affiliate links) for a well established influencer with a large following. One unnamed influencer is rumored to charge $150,000 per video, influencer Huda Kattan reports turning down $185,000 for an Instagram sponsored post, and Chloe Morello guesses anyone with over 3 million subscribers would charge $100,000 for a video.
Moreover, the most popular influencers can get paid through meet and greets, appearances, and collaborations. Every month, the most prominent influencers get paid $300,000 – $1,000,000 per month, medium-sized influencers get $10,000 – $50,000 per month, and micro-influencers get paid $0 – $500. Some may consider this to be a grotesque amount of money for a video, but they are providing a service in an industry, as one Youtuber pointed out, that has that kind of money.
"Yes there is a lot of money going around, and yes, it's disturbing figures," says Samantha Ravndahl, "But it's the reality of this market. This market has that kind of money because it has that kind of consumption from the consumer."
In contrast, "As someone who doesn't take sponsorships, I really don't see an issue with it. If you're charging a $100,000 per video, but you're making that company $1,000,000 because of your video, that's 10%," Jaclyn Hill says bluntly. "It's a business."
The reveal of how much beauty influencers earn dispels any illusion viewers have, and opens up the realities of the beauty industry. "We are in an age now where we know more than we ever did," says Ravndahl. "There were always brand trips, but it was just with magazine editors, and you didn't know they were happening."
The Truth Is Still Coming Out
Someone talking from their bedroom while the other listens and watches from theirs, transferring an understanding of how to look and feel beautiful, inevitably creates a connection. It's understandable that viewers may be upset when they realize that the information they value and trust could be influenced by profit, instead of truth. The backlash is beginning. (Netflix recently commissioned Stell to do a documentary on the industry.)
Perhaps these videos are the wake up call — or shock therapy — that influencers need to keep their audiences. Some respond with dollar figures and experiences, hoping the transparency will preserve the authenticity and recharge the trust needed to keep their businesses going. Others defend themselves, denying that they've ever accepted a sponsorship or done anything against their viewers' interests.
A marketing skeptic might say that these videos, usually titled some variation of "Truth" or "Story," are influencers' own advanced versions of press releases, defending their business interests. And yet, in aggregate, they offer a masterclass for any marketer interested in working with influencers. Watch and learn.
If you're interested in influencer marketing, have a look at "The Anatomy of An Influencer-Brand Relationship."
Interested in learning more about Wattpad Brand Partnerships? Contact us at brandpartnerships@wattpad.com.