May 22, 2018
5 Minutes, 5 Questions with Marketing Innovator, Chris Denson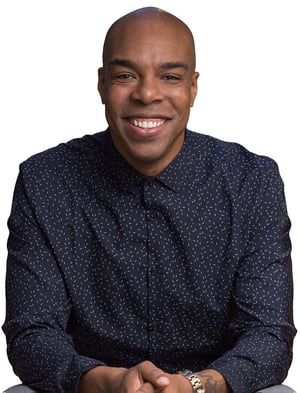 Chris Denson speaks at Wattpad HQ on how brands can use innovation in their day-to-day thinking.
Innovation in today's age can literally be interpreted in so many different ways, so how can we as individuals or as companies and brands use innovation in our day-to-day thinking? We sat down with the amazing marketing innovator, Chris Denson to weigh in on his latest book, Crushing the Box: 10 Essential Rules for Breaking the Rules. Chris brings a fresh and unconventional perspective on how to demolish the status quo and claim creative victory and we're looking forward to having him live from Wattpad HQ next week. Here's a sneak peak on all things innovation in advance of his upcoming appearance on May 28, right here in Toronto:
I sometimes refer to myself as the Napoleon Hill of innovation. Napoleon spent a lot of time with Andrew Carnegie and Henry Ford and other early mavens of business, and compiled one of the best selling books of all time on growth mindset based on what he observed and talked to them about. Unfortunately during my seances, neither of them were available for comment. However... for the past five years, I've been interviewing hundreds of the world's top innovators on my show, Innovation Crush, to a global audience, and over time you start to see patterns. While it's great to listen to individual episodes and conversations, I felt it was important to do the service of extracting some of the most common traits of disruptors, and consolidate them in something that's hopefully fun to read and easy to digest. Plus, most of my career has been working with some great brands, startups and cultural institutions to help them reimagine the future, so in this case, I've also added some of my own perspective and experience to help drive the points home.
2) How would you describe Crushing the Box in 5 words?
MacGyver as a business person.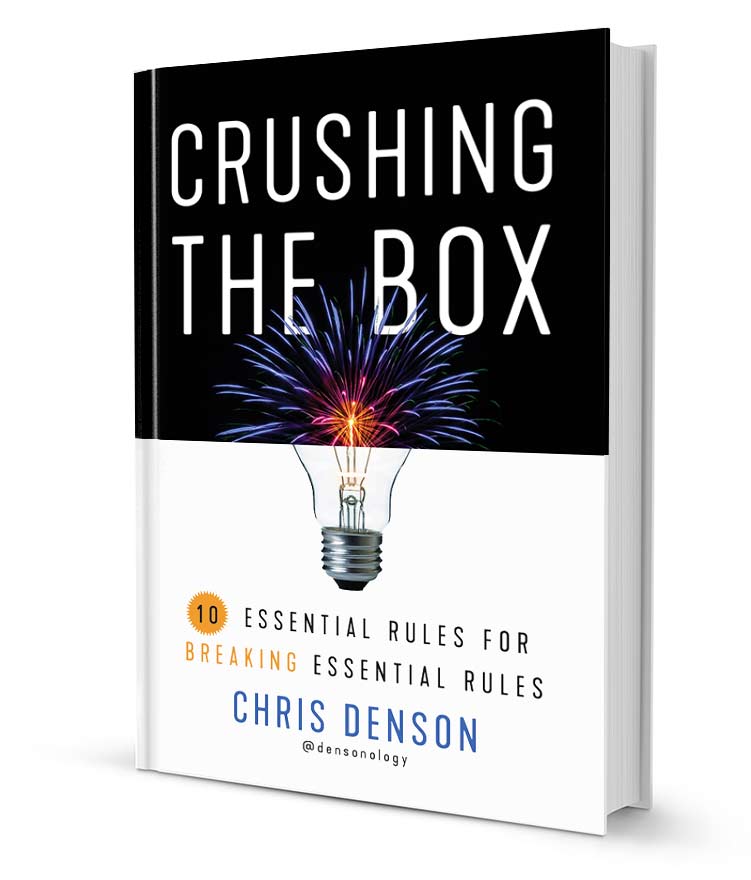 3) What is the one thing you'd like readers to take away from your book?
Aside from a great review on Amazon (hint, hint), I've been living my personal and my business life by two mantras. The first is "What got you here won't get you there," which is the idea that no matter what level of mild or massive success you've reached, we all strive for new plateaus. But it's the things we know how to do well already that have gotten us to where we are. New levels of achievement often require some reengineering in how we think about and do things. The second, is "Change the way you look at things, and the things you look at will begin to change." For me it's a constant exercise of reframing an opportunity -- or a problem -- in practicing looking at either from multiple perspectives. Challenging my own convictions or solutions. So for the book, I use a lot of metaphors to set up the lessons in each chapter, and hopefully it's a fun journey getting from a chapter title like "Swim Like an Otter" to get to the idea of empathy and how it impacts innovation.
4) Tell us about your podcast, Innovation Crush, and what's been your most memorable interview yet?
The show is, and will always be, one of my favorite things. I love asking people about their perspectives, their experiences, and their why's. As a host, what's been most important for me is humanizing the innovation conversation. It's easy-- and valuable-- to talk about projects or projections, but it's a whole other experience when we dissect who these innovators are as people. Plus I'm a huge fan of comedy, and somewhat a silly guy, so I like to use humor as much as possible. I've always strived for the show to be a cross between Fast Company and The Daily Show. As far as memorable interviews go, I can recall anecdotes from any guest that's ever been on, so each one has been a personal lesson for me. Everyone from Sugar Ray Leonard to Cindy Gallop to Daymond John, 9-year-old Dylan Siegel, to Dan Goods, who serves as NASA's artist in residence has left a lasting impression on me in terms of inspiration and practical skills to apply.
5) How should brands approach innovation in today's day and age and embrace thinking outside the box?
New is fun! That's why we like shopping for clothes, or trying a new recipe, or discovering a new song from an artist, or the new season of our favorite series. All of those are just updated iterations of things we already like. Innovation as a practice with brands is sort of the same thing. In TV, it's the same characters, or in music there's only eight notes, or clothes are basically shirts and pants. It's starting with a base and finding new and interesting ways to reimagine what they are, and how we engage with them. It could be a message, or a product, or a service, or even in how you run your business. On a more practical, operational side, it's really just setting aside some resources for exploring the unknown. The scary part is thinking that exploration might not yield an immediate traditional ROI, but in rebuttal, I like to think of ROI as "return on innovation." That reframing sets you up for the right appetite, processes, and infrastructure to support true innovation.
Interested in learning more about Wattpad Brand Partnerships? Contact us at brandpartnerships@wattpad.com.