Jan 6, 2021
Gen Z on the Front Lines (of World Issues)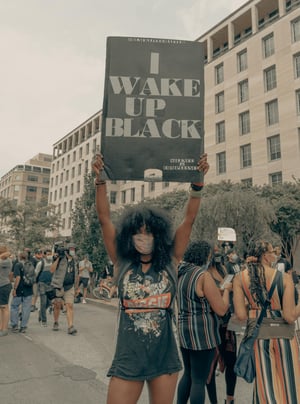 If in a few decades we're asked to describe 2020 in one word, most of us would probably say 'COVID-19'. But behind the commanding presence of the pandemic is a more hopeful theme. Last year, we saw Gen Z stand by prominent movements by taking to the streets (with their masks!), making donations, and inundating social media feeds. We've also seen this group calling for accountability from brands, celebrities, and even their families. So how did Gen Z use last year to lead change, and what does it mean for brands today? Let's march in.

Our 2020

Year in Review

revealed a

93%

increase in the number of stories tagged #Activism on Wattpad compared to 2019. Last year, Gen Z showed the world that they are intolerant to injustice and ready to challenge the groups that maintain it. From the #BlackLivesMatter movement to Lebanon's anti-government uprising, from #ENDSARS in Nigeria to the U.S. political election, Gen Z stood on the front lines and demanded the world listen.

In a poll by Politico, 63% of the American Gen Zs surveyed were supportive of protests, one participant declaring that "protesting and getting involved in outside groups are the most impactful way to get involved". But protests aren't the only marking of Gen Z activism last year. After all, social media was the driving force that spread the message and mobilized people all over the globe after the murder of George Floyd in Minneapolis. Young people created and shared infographics, protest guides, and links to donation pages. In June alone, 5,656,455 minutes were spent reading stories on Wattpad tagged #BlackLivesMatter, about a 4 million jump from the month before. After the deadly explosion in Beirut's port in August, teens shared their experiences on social media and the rest of the world soon became aware of the role that the Lebanese government's corruption and negligence had in the incident, sparking worldwide support through educational resources and donations. In the video below, viewed over 11 million times just on TikTok, a young Lebanese woman shared her terrifying reaction during the explosions.
In October, youth in Nigeria began marching against the notorious police unit SARS, stimulating the spread of the #EndSARS hashtag. Harnessing the power of social media, posts like the one below were shared to educate the rest of the world on the realities that youth were facing in Nigeria.
As a generation that, in some ways, has been raised by the internet, Gen Z was placed in a unique position that exposed them to the issues that threaten society's progression - and they watched as the adults before them seemingly did nothing about it. When discussing Gen Z's response to climate change, clinical psychologist Kristi E. White, PhD, says, "For some Gen Z folks with whom I work, their eco-anxiety is related to a continuation of generations' worth of oppression". Part of this anxiety towards the future may come from a hyper-awareness of world issues, which Gen Z channels into activism. John Della Volpe, the head of the Harvard Institute of Politics remarks, "this attitude — of having inherited deep injustices that need fixing for the coming generations — may be what defines Generation Z".
So why is Gen Z's activism important for your brand? Well, they're paying attention to your responses to the same movements they're fighting for. During these major moments in history, Gen Z wants to know where your brand stands and how you intend to help. During the Black Lives Matter movement, consumers called on companies to make genuine statements, be transparent, and #OpenYourPurse. Beauty Brand Glossier stood out for backing their statement and donations with $500K in grants allocated towards black-owned beauty brands.
#BlackLivesMatter pic.twitter.com/JuHwdUgJXs

— Glossier (@glossier) May 31, 2020
While we could share several examples of brand activism gone right or wrong, doing so would be missing the point. There is no "formula" to brand activism. Gen Z doesn't want to read a generic statement from X brand about X issue, they want to hear how you can help them in their march for change. Gen Z is on the front lines fighting for the injustices that exist in our world today - and they expect the brands they love to be standing with them.