Jan 7, 2019
How Contests Supercharge UGC Creation
While contests have been around forever, brands can modernize them by incorporating elements of content creation. Marketers can engage with customers in a unique way through user-generated content (UGC), and contests paired up with UGC have the added benefit of driving better sales and higher brand awareness. Let's break that down.
Calling for UGC Creates a Different Type of Participation
This type of contest involves your customers in a different way… it creates a more active buy-in. Unlike a traditional contest entry (let's say a form or ticket purchase), employing UGC also makes an impact on those who aren't directly participating. 93% of consumers say UGC is helpful when they're making purchasing decisions.
There are many ways to set up a contest, depending on what product or service your company provides. At Wattpad, we recommend content-creating contests in partnership with companies. For Lionsgate's film, Wonder, we promoted the films through a related story prompt, asking the community to respond with their own original stories about kindness. That particular contest garnered nearly 1,200 stories which drew over one million views and earned us a Digiday Content Marketing award. With Ben & Jerry's and the ILGA, we hosted the Pen Your Pride write-a-thon asking the community to pen their own stories of pride and allyship.
But What Does the End Result Look Like?
A week before its Superbowl commercial was set to debut, Kraft announced that anyone had a chance to make an appearance in it. As long as people shared their photos with the hashtag #FamilyGreatly and #KraftEntry on Twitter and Instagram, Kraft would consider them for the commercial.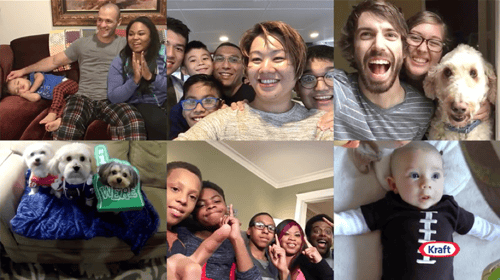 In just a few short hours, social media was inundated with an avalanche of family photos for their campaign, Family Greatly, and Kraft tied in recipes that would be perfect for family gatherings. Not only that…
You could say Kraft cleverly made their Super Bowl commercial a prize. Considering how Kraft never uploaded the actual 30 second Super Bowl spot on YouTube, their real commercial is the two-minute announcement for the opportunity to participate. And you could say it worked — their call-to-action reached 5.4 million viewers on YouTube.
Now, Add a Product Into the Mix
Prada does something really special when it runs contests based around UGC. The most recent edition was called Inner Landscape, inspired by the the way we view our inner world and the world outside. Artists were required to register and then share either a photo, gallery, or video accompanied with text adhering to the poetic nature of the contest.
This contest had people invested in showcasing their best art to be chosen as the winners. Artists created beautiful pieces that were curated to add to the aesthetic that Prada wants to hold. Besides being able to showcase artist's work Prada likely also hugely benefited from the contest since campaigns with some form of UGC bring 29% higher conversations that those without.
Harnessing Creativity = Contesting Awesomeness
Whether it's partnered ad campaigns, commercials, art curation, or any other means of sharing, UGC contests have the potential to engage mass audiences. UGC is a great resource for a limitless amount of creative exploration that resonates with consumers and framing it within a contest gives people incentive to get involved. It's a win-win that pays off in dividends after the excitement is over.
Check out The Kissing Booth case study to learn how users engage with contests on Wattpad.
Interested in learning more about Wattpad Brand Partnerships? Contact us at brandpartnerships@wattpad.com.