Mar 8, 2022
How Gen Z Is Redefining Beauty
The beauty ideal as we know it is in a state of major metamorphosis. While former eras of beauty were defined by gendered ideals of thinness, perfection, and blending into a status quo, Gen Z is paving a new way forward. They're leading the charge in rethinking and redefining beauty outside of a gender binary and the boxes of bygone times. Gen Z wants to support brands that are actively dismantling the stereotypes around beauty standards and beauty products, so they can feel safe and confident in experimenting with self-expression to discover their authentic selves.
A more fluid future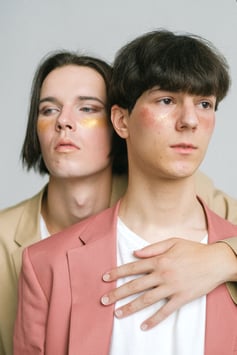 The hashtag #GenderFluid has garnered 5.3 billion views on TikTok alone. Similar numbers are found on Instagram, a search that produces beautiful photos and personal stories of self discovery. On Wattpad, almost half of the US audience identifies as part of the LGBTQ+ community, with research showing that Gen Zers are most likely to identify as transgender or non-binary. Gen Zers are feeling more empowered than ever to experiment with their gender expressions and lean into their authentic selves—and many are turning to the beauty industry for inspiration.
The end of gendered beauty marketing is on the horizon, with more and more gender-fluid companies popping up and existing brands pivoting to be more inclusive. Unilever eliminated the word "normal" from its branding, while Sephora's "We Belong to Something Beautiful" campaign included transgender models. Fluide and Gendr are two makeup brands that launched on the premise of gender inclusivity, both proclaiming that beauty is for everyone. By casting models of all different gender expressions, races, and sizes, these brands are putting money into marketing that makes everyone feel seen.
Serving as both an antithesis and an ode to the slowly evolving beauty industry, Prim N' Poppin', an online photography exhibition by photographer Julia Comita and makeup artist Brenna Drury, subverts the cis, white, and thin beauty standards of the beauty industry by recreating makeup ads and magazine covers with queer and diverse models. "We are asking big brands to step up and take responsibility for their casting choices, advertising, and marketing, and encourage our fellow creatives to generate conscious content," the artists say.

All bodies are in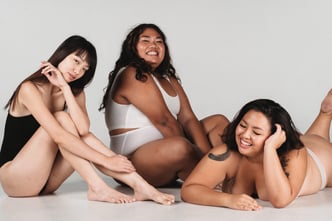 The pull that Gen Z has on even the most historically conservative industries is astounding. Lingerie has come a long way, and Rihanna's gender-inclusive brand Savage X Fenty is a great example of that. It's a direct response to what her fans want to see—transgender, non-binary, and visibly pregnant models of all different races, ages, sizes, and abilities on a catwalk traditionally reserved for those who fell under the category of conventionally beautiful by society's standards. Future-forward swim and bodywear brand Chromat is doing it, too, giving marginalized bodies the stage at New York Fashion Week, Miami Swim Week, and beyond.
Demands from Gen Z are edging out brands that refuse to change, showing the power that they have as consumers and giving brands a path forward, should they choose it—but there's still work to be done. Young people notice when brands make frivolous, inauthentic gestures, like wrapping product in rainbows in support of PRIDE, subtly extending their sizing while their Instagram feed remains straight-sized, or posting about #BlackLivesMatter without casting or hiring Black people. Gen Z consumers want deep engagement and a genuine commitment to the causes they care about.
There's beauty in self-care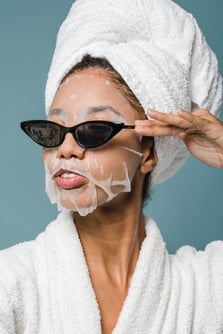 Self-care and beauty routines, once seen as something strictly feminine, are breaking the gender binary. Skincare is becoming part of a ritual for everyone on the gender spectrum. There's an entire TikTok community now dedicated to men's self-care; videos showing men cleaning their apartments, doing their skincare routine, getting pedicures, and more, with hundreds of thousands of views.
For many transgender folks, skin care can become an act of resilience and self-love, especially while transitioning. Thought leaders like Salem Mitchell, Zandra Azariah, Sam Visser, Halima Aden, and Victoria of FatFabFeminist show their followers that fashion, makeup, and beauty knows no race, gender, or size. This young generation leans into perceived "imperfections," reveling in their differences, and trading in flawlessness for realness. Gen Z sees the brands they shop with as complementary to who they are and their values. They, among many others, use their platform power to show brands that like marketing, beauty is only skin-deep—it's the authenticity under the surface that counts.
Representation in media and marketing doesn't end here. Learn more about why Gen Z wants to see more authentic representation in brand marketing and advertising in our report All Tomorrow's Stories, with We Are Social.