Sep 2, 2020
How Gen Z Marries Style and Sustainability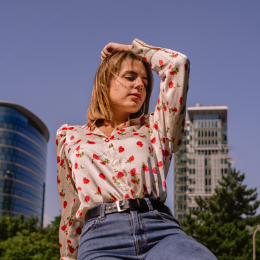 For Gen Z there's no more crucial a fight than climate change. It consistently tops their list of greatest concerns and according to an Amnesty International survey of under-25s, over 40 percent said it was the most important issue facing the world.
Far from being solely a political or environmental issue, they see climate awareness as a necessary part of everyday life, from travelling and cooking, to shopping and style.
For 22-year-old Kate McQuade it's had a huge impact on her clothing choices. "My habits have definitely changed the more I learn of the harm fast fashion has caused our planet," she told Wattpad. But it hasn't completely impacted her desires as a fashion-savvy student. "I wish I could say this has led to me adopting a minimalist lifestyle but unfortunately I still buy into the 'this sweater will make my life better' mentality when feeling down. So to make up for this, I try to solely buy used clothing," she says.
How else does this more thoughtful approach influence their buying choices? Well, it's dramatically shifted how Gen Z engages with brands, buys clothing and shares looks with their peers.
Holding brands accountable
A big part of this holistic approach to climate change stems from their belief that brands and corporations have a key role to play in shaping our response to this problem. According to a McKinsey report, nine in ten Generation Z consumers believe companies have a responsibility to address environmental and social issues.
Far from just paying lip-service to the environment, Gen Z wants transparency on what companies are doing to ensure a sustainable process from start to finish and that companies are minimizing unnecessary waste.
And because Gen Z's major spending power accounts for up to $150 billion spent in the US alone by some estimates and will account for 40 percent of global consumers by the end of 2020, brands are taking notice. Clothing companies like Everlane, Boden, and Alternative Apparel tout their sustainable practices, eco-friendly materials, recyclable packaging and ethical production processes.
Secondhand shopping
Apart from championing established brands, consumers aged 13-24 also see the value in buying secondhand. Eighty-seven percent of the U.S. members and 80 percent of the Canadian members of our youth panel, Generation Wattpad, recently told us they buy things secondhand, while 91 percent in the U.S. and 89 percent in Canada say their main secondhand purchase is clothing. Sixty-seven percent in the U.S. and 61 percent say they also buy used shoes, purses, and accessories secondhand.
And while 86 percent in the U.S. and 91 percent in Canada said they picked up those items at thrift stores, many are increasingly turning to digital resources to finesse their fashion.
Peer to peer marketplaces
Fifty-two percent of Generation Wattpad said they were turning online to pick up their secondhand outfits. Some of the tried-and-true platforms topped their list of resources like Craigslist, Poshmark and eBay, but they're also utilizing more creative methods to swap sartorial hits.
Apps like Depop have quickly become a Gen Z favourite, turning thrifting into a fun, social, flea market in virtual form. It lets teens turn their closets into mini-vintage stores, flipping castoffs into cash and letting them discover new styles with none of the guilt of buying new.
And Depop is not just a marketplace, but a community, allowing teens and young adults to show off their personalities through their wares and get to know each other as they swap style.
Virtual fashion
While most of the innovation of sustainable clothing is happening IRL, some artists are taking it a step further with virtual clothing lines. Inspired by virtual influencers like Lil Miquela, designers like Happy99 are showing off purely virtual fashions.
Seeing it as a unique way to tackle future sustainability issues caused by fast fashion, Happy99 heralds a fun, creative approach to the question of marrying climate change awareness and consumption.
Using their words
Gen Z's wardrobe creativity extends beyond the visual, too. When Wattpad partnered with JCPenney during prom season, we asked Gen Z to share stories about their #DreamPromposal. The result? An influx of hundreds of stories detailing dream prom outfits and dates. And while one lucky winner saw their promposal dreams come true, the high engagement rates on stories submitted is proof positive that, when it comes to staying sustainable through fashion, there's nothing like a little imagination.
Gen Z is also driven to vintage and thrift shopping due to their desire for nostalgia. Read how connecting with Gen Z has never been more accessible than with nostalgia-driven marketing strategies.